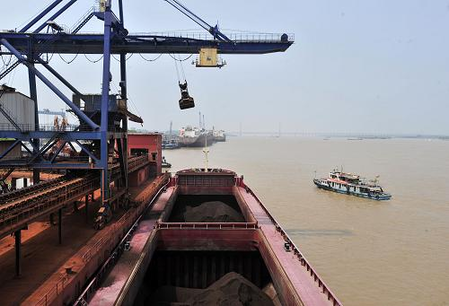 Chinese ferrous futures rose for a second straight session on Thursday, with benchmark Dalian iron ore advancing by more than 5% on renewed hopes for additional stimulus to help the world's second-biggest economy offset the impact of a COVID-19 resurgence.
Mainland China's new local symptomatic cases declined for a second consecutive day, adding to the positive sentiment following Wednesday's remarks by Chinese Vice Premiere Liu He indicating plans to take measures to boost the domestic economy.
Concernsover the impact of the Russia-Ukraine conflict on trade between top steel producer China and the European Union also eased on hopes for a potential breakthrough in compromise talks between Moscow and Kyiv.
The most-traded iron ore, for May delivery, on China's Dalian Commodity Exchange ended daytime trade 4.7% higher at 810 yuan ($127.61) a tonne, after rising as much as 5.9% during the session.
On the Singapore Exchange SZZFJ2, the most-active April iron ore contract was down 1.1% at $147.65 a tonne by 0740 GMT, surrendering earlier gains.
"China signalled support for financial markets and growth, while Russia suggested a neutral, but still armed, Ukraine could be a compromise," said Taylor Nugent, economist at National Australia Bank, as stocks and metals markets rallied.
Construction steel rebar on the Shanghai Futures Exchange rose 1.7%, while hot-rolled coil SHHCcv1 climbed 1.3%. But stainless steel fell 1.5% as a price rally in raw material nickel cooled SNIcv1.
"There may be concerns that the consumption (of stainless steel in China) in the future may be dragged down by the epidemic," analysts at Huatai Futures said in a note, adding that domestic supply was also showing an uptrend.
Dalian coking coal DJMcv1 gained 1.4% and coke jumped 2.1%.
Spot iron ore for delivery to China rose for the first time in a week on Wednesday, trading at $146.50 a tonne, according to SteelHome consultancy.
Source: Reuters